Landscape Design Services
Consultation, Design and Installation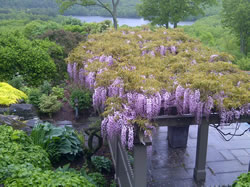 NatureScapes has become one of Westchester's premier landscape design teams by designing and building innovative, beautiful and enduring landscapes that respond to the individual requirements of our clients. Working on both residential and commercial projects, we understand that each customer has different ideas, emotions, and objectives when visualizing a landscape project. Our objective is to customize a design to fit those needs as well as the property itself.
Our boutique landscape design and installation services include all aspects of a project, including plant selection and sourcing, seasonal garden installation, water feature construction, irrigation systems, hardscape designs for patios and walkways, and landscape lighting.
No job is considered too small or too difficult for NatureScapes. Our work ranges from New York City rooftop gardens, to creating intimate outdoor rooms on a local property or to designing welcoming entranceways. Through our personal approach to both design and service, we will work with you to develop an installation schedule that may be adjusted according to season, your budget, or to respect the cycles of existing plantings.
We hand select our plant materials, and use only the highest quality plants from the most exclusive growers. We have access to many unique varieties, and can also source virtually any materials request.
"I am so very grateful for all your advice, patience, creativity and good nature as the terrace project unfolded over the past year. Your professionalism is to be admired and applauded. You shared your knowledge of nature's beautiful trees and plants so generously — and above all, you made this whole endeavor appear effortless. What I always dreamed of, you made a reality for our family."
Sincerely,
Nancy F.
Contact Us
NatureScapes
Landscape Services
2 MacDonald Avenue
Armonk, NY 10504
bob@nscapes.net
Cell: 914.557.2919
Office: 914.422.9337
Contact Us
NatureScapes
Garden Shop
2 MacDonald Avenue
Armonk, NY 10504
gardenshop@nscapes.net
Office: 914.273.4829
Open Seasonally: Please visit our
Facebook page for current hours